Lesson DVD's, Performance Videos and related Songbooks.
click on the images to check availability.
Out with the old ................................................... in with the new.

..........
Wonderful news ! "Bebop & Swing Guitar" and "Advanced Latin & Jazz Improvisation" VHS tapes have finally been converted to DVD format. Just click the covers above to be forwarded to Elderly Instruments where you can place your order.
What you can expect: The audio is crystal and the video is Crisp ! After years of viewing on VHS, it's like getting eyeglasses and finally being able to see. Browsing through the menu with the ability to choose slow motion for any of the exercises is a dream for students. There is a short Bio, selected discography, built in tuner and a list of suggested listening albums which include some of her favorite artists like, Wes, Martino, Jim Hall, Joao Gilberto, Stan Getz and Jobim. My impression: How wonderful it is to finally have such a clear and organized recording of her lessons.
Emily was a masterful teacher, let her inspire your playing again soon.
We appreciate Musicroom.com who was instrumental in making this conversion happen and keeping us updated along the way. While their U.S. site has been closed, those located overseas can still find their great service and products by clicking on the logo below.
---
LEARN JAZZ GUITAR WITH 6 MASTERS
Lesson 1: Joe Pass- jazz chord substitution for blues, plus chord embellishments
Lesson 2: Emily Remler- swing, comping, guidetones, and the Charleston rhythm
Lesson 3: Brian Setzer- unique blues chord substitutions and jazz chord comping
Lesson 4: Duke Robillard- Charlie Christian style, swing phrasing, single-note blues/jazz and passing tones
Lesson 5: Tuck Andress- walking basslines, chords and true independence
Lesson 6: Joe Beck- how to work on common tones, chord voicings, and chord melodies
LEARN JAZZ CHORDING WITH 6 MASTERS
Lesson 1: Sal Salvador- basic progressions, I-vi-ii-V theory, harmonic families, and substitution
Lesson 2: Joe Pass- chord voicings, substitution, chromatic movement and harmonic choices
Lesson 3: Mundell Lowe- Freddie Green style, 2, 3 & 4-note chording, and modern jazz comping
Lesson 4: Charlie Byrd- "dark" chord voicings and diatonic movement
Lesson 5: Emily Remler- Brazilian Bossa Nova comping, independent thumb and syncopated 4-against-3 rhythm
Lesson 6: Tal Farlow- using bebop harmonies and chords in a blues sequence
features you will find on both DVD's :
-notation and tablature can be seen on screen while it's being played
-All right- and left-hand techniques are shown in close-up with split-screen effects
-Slow motion segments with standard pitch sound
-Artist biographies
-Suggested listening and Booklet with music examples included

Want the option to simply rent the video for a week or download it to your computer directly,.. click the icon below to visit TotalVid.com and use these alternative buying choices.
---
THE GUITAR SHOW Jazz Masters Vol.1
Great live performances originally broadcast through the 80's and just released on DVD. Volume one features Pat Martino, Bill Frisell, Steve Khan and Emily Remler.
72 Minutes DVD
The finest solo jazz guitar performances ever captured of Emily playing her Ovation acoustic guitar on three incredible versions of her own original compositions:
Blues For Herb ~ You Know What I'm Sayin' ~ Majestic Dance


This title is widely available, the link provided above features Elderly Instruments
who carry all of Emily's DVD performances and lessons.


The Guitar Show with Interviews
Same performances as above but includes the full interviews with Emily between songs which had been cut from the original.
---
Talking Jazz: Rare Conversations With 60 Jazz Greats
By Ben Sidran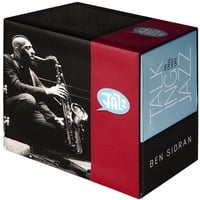 This is an incredible long list of some of the best jazz musicians out there, past and present. Click the image to see the complete index. I include this monster priced CD set collection because it does contain a 30 minute shared interview with Emily and Larry Coryell. It's so wonderful to hear her voice as she expresses a variety of opinions in a very insightful interview conducted by Sidran, who has a stylish grace for intelligent conversation with fellow musicians.
Hardcore jazz connoisseurs will consider the $250 dollar price worth it for the privilege to have all these great interviews sitting on their home shelves, but for the average consumer, who might be interested in hearing the top twenty names, check your local library, or if you live near a University, don't forget they often have separate music libraries that would have the interest and funds to provide it for use. Often libraries also have access to intra-state loaning options, so ask for this service if your local library does not carry it.
For the rich collection of unique jazz voices it offers, this CD set is a real gem for jazz aficionados.
---
Retrospective: Compositions
Includes ten of her original compositions from the 1991 CD release
Retrospective Volume Two: Compositions.
In standard music notation and tab.
Dan Bowden, Transcriber
Mocha Spice ~ Nunca Mais ~ Waltz For My Grandfather
Catwalk ~ Blues For Herb ~ Transitions
The Firefly ~ East To Wes ~ Antonio ~ Mozambique
---
Advanced Jazz & Latin / Bebop & Swing Guitar VHS Booklets
Lost the inserts that came with Emily's videos? Click on the images below to download the booklets in PDF form.
---
Best Of Jazz Guitar
A step-by-step breakdown of the styles and techniques of sixteen legendary jazz guitarists, by looking at their interpretations of these ten standards. For each song, Wolf Marshall examines the contrasting approaches of at least two guitarists.






All Blues (George Benson, Kenny Burrell, Pat Martino)
All The Things You Are (Hank Garland, Pat Metheny)
Honeysuckle Rose (Joe Pass And Herb Ellis, Charlie Christian)
How Insensitive (Pat Martino, Emily Remler)
I'll Remember April (Johnny Smith, Grant Green)
Misty (Barney Kessel, Wes Montgomery, Howard Roberts)
Satin Doll [Pass, Joe] [Roberts, Howard]
So What (Barney Kessel, George Benson)
St Thomas (Jim Hall, Tal Farlow, Kenny Burrell)
Yesterdays (Johnny Smith, Tal Farlow, Wes Montgomery)
---
Jazz & Blues Solos
Thirty classic jazz and blues solos transcribed in guitar tablature and standard notation, complete with helpful notes on technique and style. Includes solos from such legends as Django Reinhardt, Charlie Christian, Wes Montgomery, Albert King, Muddy Waters, B.B. King and Eric Clapton.
300 Pounds Of Joy (Hubert Sumlin)
All Your Love (Otis Rush)
April In Paris (Joe Pass)
Billie's Bounce (George Benson)
Crosscut Saw [King, Albert]
Crossroads [Clapton, Eric]
Dust My Broom [James, Elmore]
Five Long Years (Buddy Guy)
Good Morning Little Schoolgirl (Johnny Winter)
Have You Heard [Mayall, John]
Help The Poor (Robben Ford)
Hideaway (Freddie King)
If Trouble Was Money (Albert Collins)
Lazy Bird (Pat Martino)
Mama, Talk To Your Daughter (Robben Ford)
Merry Go Round (Peter Green)
Midnight Blue (Kenny Burrell)
Need Your Love So Bad (Peter Green)
Phase Dance [Metheny, Pat]
Protocol (John Scofield)
Reconsider Baby [Fulson, Lowell]
Solo Flight (Charlie Christian)
Strollin' (Emily Remler)
T-bone Shuffle (T-bone Walker)
The Thrill Is Gone [King, B. B.]
Three O'clock Blues (B.B. King)
West Coast Blues (Wes Montgomery)
You Stole My Money Honey
You'll Be Mine (Stevie Ray Vaughan)